WaveReX - The Waveform
Re
fill e
X
pansion is THE extension for the Korg M1*, more precisely an emulation of PCM-cards.
It is not a passive memory card but comes with a modern ARM MCU on board.
WaveReX
also works on M3R. M1 exists for 30 years now – one more reason to upgrade this classic and make it ready for the future.
WaveReX
extension does not require a reconstruction of the synthesizer, has the same form as the own PCM cards and can very simply be placed in the ROM-slot of the M1. A total of 512 kByte are available for your own samples, exactly as the original cards.
WaveReX
offers
512 kB
for own samples with a total sample time of
8,4
seconds.
With the software editor (currently only WIN available) own PCM cards can be constructed on a computer, then copied and loaded via USB into the M1. The samples of the self-created cards can then be used as waveforms for own sounds and patches.
You are afraid 512 kByte are not enough? The reduced sample resolution of 32.150 kHz allows more space than you think! Single Cycles (DWGS), for example, only require few kByte. Korg managed to accommodate more than 100 samples on its cards!
WaveReX
enables you a direct access to the sound synthesis of M1. It's neither a mod, nor a hack. It allows you the same range of possibilities as the producer.

With WaveReX, the workstation concept becomes sound and complete. Your M1 will work as a sampler, a wavetable-synthesizer or a drummer – you will select the sound!
* WaveReX is not an official product of Korg. WaveRex is not related to Korg.
The sounds/waveforms of the following devices are available:
• DSS-1 / DSM-1 DWGS
• DW-8000 DWGS
• MS-2000 DWGS
• all sounds of the T-series
Current status:
The prototype is running smooth and stable. Improvements of the prototype will be made with the first RC (Release Candidate).
Initially,
ten RC
have been produced and delivered. Those are currently being programmed and prepared for the beta period. Unfortunately, the cases are still missing, but we are working on it!
The distribution of RC-1 cards is planned for the end of the second quarter in 2018. The beta phase will last for approximately two months. Afterwards, the final cards are planned to be produced as a batch of 100 pieces.
The final price for a WaveRex card will be approximately 199 € (plus VAT).
The price includes:
Hardware (WaveReX card) in a plastic casing

Software (WIN*) for construction and loading of own cards

A sticker "powered by WaveReX"
* A version for Mac OSX is planned!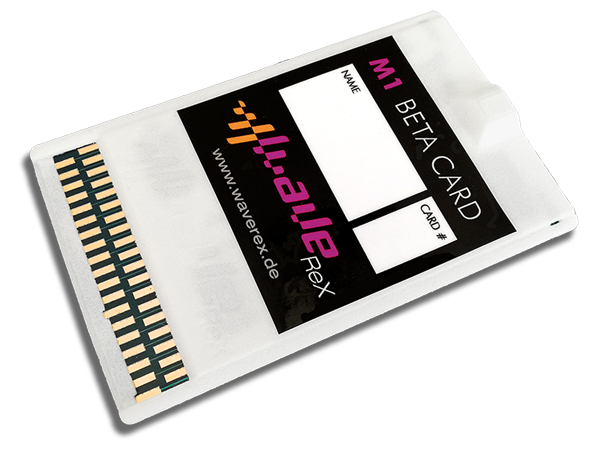 UPDATE September 2018:



WAVESTATION NOW SUPPORTED!



We've been busy with testing, testing and testing so it's been quiet for a while. Now, we have great news for you. WaveReX also works without restriction in the
Korg Wavestation
!
Imagine the possibilities
– add your own samples to the Wavestation and make your sound even bigger. OBX or Prophet Waves in your WS? JUST DO IT.
WaveReX - Waveform Refill eXpansion für Korg M1 - Demo
We are looking for Beta Testers & Sound-Designer!
Your profile:
Owning a Korg M1, M1R, M3R, T1, T2 or T3

Willingness to create sample sets and sounds

Potentially: Willingness to create videos (YouTube)

Willingness to create sound samples/demos and make them available as an MP3 (e.g. SoundCloud)

Support of the beta period through posts on social media (Blog, Instagram, Facebook etc).
Applications are possible for everyone who:
Is interested in this project

Is experienced in "old-school" sampling

Is willing to contribute with his/her experience to the project

It is important to mention why you are the right person for this job! You can apply for the beta period via email: beta@waverex.de
Costs & Discount:
Beta testers will only pay 50 €. The costs will be offset with the delivery of the final version.
Beta testers will receive a discount on the final product which is dependent on the commitment and feedback. The discount, however, will be min. 30%.
The return and reimbursement of costs is possible within 14 days.

All beta testers are invited to promote and publish their demos and sounds on the Facebook page of WaveReX!

It would be great if new card sets for the future community will be created during the beta phase.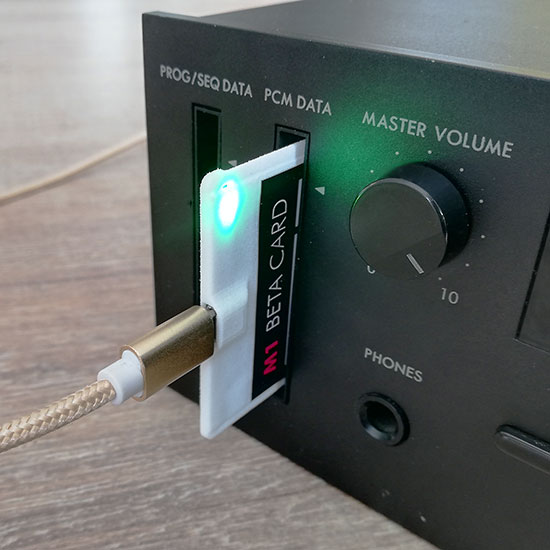 Join us on FaceBook and be a fan. You will find all current improvements and news about WaveReX here.

Join us now!
How will you use WaveReX? We would like to know it more precisely: For which model would you use WaveReX? Depending on the results of this poll, we can adjust and enlarge the options of the card. In this way, it would be possible to include more synthesizers or drum machines, e.g. Korg Wavestation, S3, P3, O3 (Symphony), the AI2-Synthesis models or synthesizers/rompler of other firms.
The poll will be conducted on our WaveReX FaceBook-Page and is going to be displayed here!