Our first beta test period is now finished. With the gained knowledge we have removed bugs in the app and further optimized the WaveReX® hardware. We are now a little closer to our goal.


What we still need are fresh sound designers for the KORG Wavestation and the KORG M1!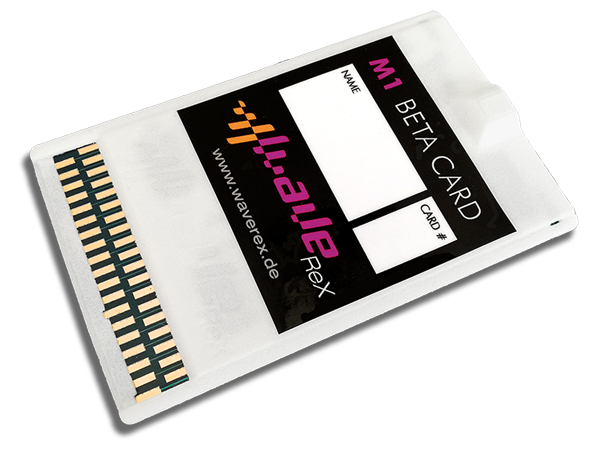 Your profile:
You know (oldschool) sampling and know how to handle short waveforms?

You have mastered looping and multi-sampling?

Single cycle waveforms are not foreign to you?

Synthesis is more than simple ADSR for you?

You can operate the M1 or Wavestation in your sleep?

You want to get the most out of the machines?
Then you are exactly the right person for our project! Become part of a carefully selected and dedicated team now. We are dying to get everything out of the equipment. We are sure: so are you!


Everything different, everything new.
Our idea is that you create sound sets that are freely available to all WaveReX® users. The community benefits directly from your results and experience.
With only the internal waveforms, creative minds have created countless sounds. Some of them are still iconic today. But eventually even the best sounds will be used up. This could be a death sentence for every ROMpler. The device degenerates into a preset slingshot with 10000 sounds on disk.
But that's over now. The barriers have fallen. Load any sample you want into the M1 or Wavestation. Fresh waveforms for new, fresh sounds. On to new shores. The limit is your creativity!
No more pianos, no more brass or organ sounds. Just sample your favorite synth and put it onto the M1 or Wavestation. Just imagine the possibilities! Of course it won't sound like the original device in the end. But that's exactly what has been used as a stylistic element for generations, or aren't you a Depeche Mode fan?
World explorers wanted!
You know your Wavestation inside out? Then we don't have to tell you anything. You know what the device can do. Thirty-two waveforms can be used and everything can be morphed into each other!
Now finally give it what it deserves. Feed her with the hottest samples you can find. Get everything out of it. Give it a WaveReX®!
The Korg M1 is a bit more limited with only 2 oscillators. However, this is relative when using combinations. It has proven what it can do enough times and believe us, it can do much more. The oscillator lays the foundation! You will be amazed at what you can achieve, that is a promise! Let your M1 spoil you. Get WaveReX®!
Minimum = Maximum.
There are no limits to your creativity as long as you keep your samples under 8 seconds total sampling time. Nowadays this can be a real challenge.
But not for you?! You accept the challenge tired and smiling?! Yes, YOU are not a gossiper, YOU ARE A MAKER! And that's why we're looking for YOU.
Everything for honor?!
We expect from you at least 32 modern, fresh sounds (exclusively with your own waveforms).
In addition to fame and glory, thanks from the community that you have sacrificed yourself for them and an entry in history, you receive a discount on the end product in return. For this purpose we have developed an attractive bonus system.

You will also be listed as a supporter in the manual. And it goes without saying that you can include your abbreviation in the sound name, e.g. MN Bass 1.
Write us your qualifications and especially your ambitions.


Tell us
your preferred genre
(Berlin School, House, Techno, Ambient etc.) and for which device (M1 or Wavestation) you want to use WaveReX
®
.
Tell us something about yourself
and your gear (Synthesizers, Sampler etc.).